Moving concert marks anniversary of Russian invasion
Ardent Hire CEO, Jeremy Fish, and wife Anne, were proud to represent the Plant and Hire Aid Alliance at a moving commemorative concert held recently at Bath Abbey.
The event was held to mark the anniversary of the Russian invasion on 24th February 2022, and to show our solidarity with the Ukrainian people as the war enters its second year.
Incredibly moving
"It was an amazing concert that depicted, in music and verse, the Russian invasion and its impact on every day, ordinary families," said Jeremy. "It was an incredibly moving experience and it left me feeling all the more determined to reach the Alliance's ambitious target of providing 10,000 generators for families who are struggling in Ukraine."
Ukrainian singer Nicole Medin featured as the main performer, along with the Voices for Life Bath Children's Choir and two other local choirs, Canzona and the Trowbridge Philharmonic Choir.
The concert was organised by Friends of Oleksandriya and the Rotary Club of Bath, and it was attended by over 650 people. Tickets ranged from £10 to £30, with further opportunities to donate on the day, and all proceeds from the event will go towards the Alliance's Power to Ukraine appeal.
At a reception at the adjacent Pump Rooms, the Ukrainian ambassador expressed his sincere gratitude for all the support provided by the Plant and Hire Aid Alliance, and by our industry in general.
On behalf of the people of Ukraine, he thanked us for both our past support, in the form of medical and food aid, and our current focus on providing much needed generators to provide heat, light and power to homes, hospitals and schools.
Jeremey Fish was also keen to express his own thanks. "On behalf of the Plant and Hire Aid Alliance, I would like to thank everyone involved for their efforts in organising and performing in such an inspiring and heartfelt concert," he said. "Events like this show the world that we are united and unwavering in our support for the Ukrainian people in their hour of need."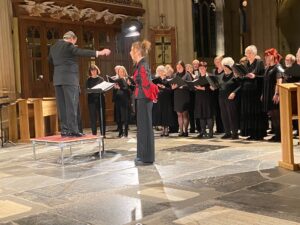 Join our chorus
We are delighted to report that the event raised significant funds for the Power to Ukraine appeal. These will be used by the Alliance, in partnership with Rotary International, to pay for generators to be delivered direct from the manufacturers to families and groups in dire need.
But don't worry if you missed the Concert of Warmth and Light; you can still add your voice to our chorus of support by donating to the Power to Ukraine appeal. A generator costs just £270 – that's only £216 with Gift Aid – and this can provide warmth and light to a whole family in Ukraine as winter bites.
All donations are welcome, however small, so please visit our Just Giving page now and give whatever you can afford.