When you think of a power cut, you probably picture a few hours without electricity. Keep your fridge and freezer closed, light a few candles and you'll be fine. But for the Ukrainians in Tsyekuny, near Kharkiv, their power cut is set to last for at least six months – taking them well into the cold of winter.
Russian bombardment has destroyed the electricity infrastructure, leaving the town completely cut off from the mains supply. Even if the conflict resolves, the villagers are looking at at least six months before the grid is repaired.
Six months without heat or light.
Six months without fridges for their food and medicines.
Six months without so many of the basics that we take for granted every day.
You can help turn the power back on
Thanks to generous donations, the Plant and Hire Aid Alliance is making a real difference to the people of Tsyekuny. We're delivering portable generators to families in desperate need, restoring their power, rebuilding their lives and showing them that they are not forgotten.
We've already delivered dozens of generators direct from the factory, straight to Ukrainian homes. Each one has made a huge difference to the daily lives of the elderly and young families caught up in the conflict. But many more are needed, and we need your help, right now, to provide them.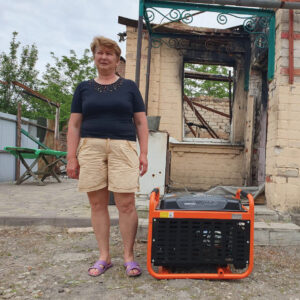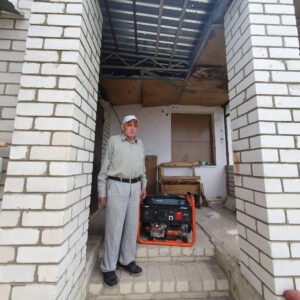 Every little helps
A life-changing generator for Ukraine costs just £279 – that's just £216 with Gift Aid if you are a UK taxpayer. Ten generators, to provide power to up to 100 people, would cost your company less than £2800.
The Alliance is working closely with the manufacturer and Rotary International to create the most efficient and cost-effective distribution system for the generators. All that's missing is the money to buy them.
Six months without power is a nightmare that we simply can't imagine. Yet you can end that nightmare for a whole family, right now, for just £216. Can you really leave them in the dark when light costs so little?
Donate now by visiting our Just Giving page, and please share the link with anyone you can think of who might help. All companies who donate will be featured in our social media, as well as on the Aid Alliance website at www.aid-alliance.com.
Thank you, in advance, for your kind support.